L a w r e n c e D y e r



Oil On Canvas Example From A Portrait Painting Artist

Oil on canvas by Lawrence Dyer, a portrait painting artist. Have your portrait or that of a loved one painted in oils. Click here to find out more.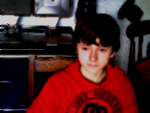 Different portraits present different challenges. One challenge in the painting below was to suggest elements of the country kitchen in which the sitter was to be painted. During the two sessions it took to paint the portrait I took some photographs for reference should I need them.
You can see from one of the photos reproduced left that I have simplified the background while hopefully still suggesting the location through the inclusion of the cooking stove and the Ewardian dining chair in which the subject is sitting.
The boy in red had a distant, pensive quality to his expression while he sat for me and I have tried to bring it out in the resultant painting. This quality is not so clear in the photograph. For more on the ways in which an artist's portrait painting can reveal more than a photograph see my article: The Camera Never Lies - Untrue!